So, I'm at the point now which I'm sure all tiny house hopefuls dread - the hunt for land. More specifically, the hunt for township approval. I've found some land that I like the looks of - still in the same county, secluded, lots of mature trees, and 1.5 acres for a good price. It's a good 20 minutes away from any big settlements, but there's a small town center just around the corner. The problem is getting approval to live there.




I had considered just buying the land, paying my taxes, and living there without contacting the township at all. The land has a small graveled patch near the road, and that'd be a perfect place to park. There are so many trees that it'd be hard to see anything back there unless you stopped right at the end of the driveway and looked back. However, at the end of that graveled part is another group of trees, and behind them is a very secluded clearing. I'd be able to make a path from the graveled part to the secluded part easily enough, and it would be impossible to see the tiny house from anywhere off the property (well, except maybe above, but even then some of the overhanging trees would provide cover.) I could live there quite hidden for some time.
But I figured I should at least TRY to conform. After all, ordinances and building zones were originally written to protect the people. Also, there's the argument that some of the people in that township chose to live there because of the ordinances against other types of dwellings, and it wouldn't be fair for them if I ignored the ordinance.
So, I went to the township offices and asked to speak to someone about zoning. Just so happens that the woman I first met was the township clerk, and she took me back to this big zoning map. This is where I made my first big mistake - I TOLD her what I wanted to do, instead of SHOWED her. She immediately told me "you can't do that here. You can't do that anywhere in this county. It's not allowed." I tried to backtrack a bit, asked about rezoning possibilities or variances, but while she did answer my questions politely, she was very insistent that the answer would be "no."
I will admit, I was getting quite frustrated at this point, so I did what I should have done in the first place - I opened the envelope I brought and showed her the pictures. She flipped through them quietly and thoughtfully, then eventually said "well, you can bring it before the board. The board meets on Thursday. Be sure to bring these pictures with you." Small victory! A picture is worth a thousand words, especially when it's a cute picture of a tiny house. It would have made it much easier for both of us had I started with that.
So on Thursday (my birthday, by the way) I went to the town hall meeting. They went over some budget stuff, then had a moment where they addressed some issues. One other guy spoke ahead of me - he had a daughter who had fallen on hard times and wanted permission to let her stay in a camper on his property for a few weeks to get her feet back on the ground. It sounded reasonable to me, and I figured it would be a good test case to see how these folks would handle MY request. They listened thoughtfully, then spent the next 10 minutes POURING over the ordinances trying to determine how to interpret certain rules and laws. It seemed very academic and pedantic to me. They were the board, after all - couldn't they make exceptions?
Of course, their job isn't to make judgments like that, really... their job is to interpret the ordinance, which was written apparently through the will of the people. They're not allowed to make or break laws, I guess. The purpose of the ordinance is so that the township doesn't have to rely upon people having that sort of authority. It was a frustrating revelation, because it meant that my job got a lot harder.
Eventually, one of the people in the "audience," a firefighter, spoke up and said that he had been part of the committee that drafted those ordinances, pointed out which part they should be considering, and stated that the ordinance forbade living in campers unless granted temporary approval by the board. He told them that they had it in their power to grant that approval for, say, 60 days, according to the ordinance. The board then voted and allowed the man 60 days to help his daughter get situation.
That was a good sign, because it showed that the board really did want to help people, and really did want to be civil servants and not civil dictators. They had laws that they had to interpret and abide by, but they also had humanity and compassion. Regardless of the ultimate outcome on my situation, I have respect for those people because of that decision.
Of course, after that it was my turn to speak. I started out by immediately handing out the pictures, and explaining that my request was for a permanent residence, and that the ordinances don't really cover the type of home I have. Before I even addressed the land, the guy who was pretty much leading the board said that I really needed to take this issue to the township supervisor. He said the house was cute (and everyone on the board loved the pictures) and they'd like to be able to allow it if they could fit it into the ordinance, but it really required the supervisor's interpretation. Unfortunately, she had just had surgery a few days before and wouldn't be back for 2 weeks.
So, I left the meeting with no real answer one way or another, but at least with a sense of optimism. Yes, I have an uphill battle to face, but at least I'll be "fighting" with people who would be interested in seeing me win, as opposed to people dead-set on making sure I lose. I suppose at this point I just need patience.
Oh, and after I sat down, the firefighter who said he was on the ordinance committee asked to see my pictures. He and his firefighter buddies flipped through them and seemed really excited and impressed by them. After that, a lady sitting at the table next to me asked to see them, too, and she seemed to enjoy it. At the very least, it gave people something new and interesting to look at.
SPEAKING of something new and interesting to look at, I have a few extra pictures for y'all. Not many, but at least it's an update, right?
So as I'm sure I mentioned before, I haven't been using my fridge. I bought a DC fridge, but it draws more power than my solar panels can generate in a day, so I really haven't been using it. Now that summer's around again, though, I decided to at least get a small power supply to get that sucker in action. I pulled the fridge out, ran the wire through the closet and hooked the power supply up under the couch. The picture above shows it on the floor behind the ladder (not a safe place for it, but okay for a picture) With that in place, as long as I have AC power available, I can now run my fridge!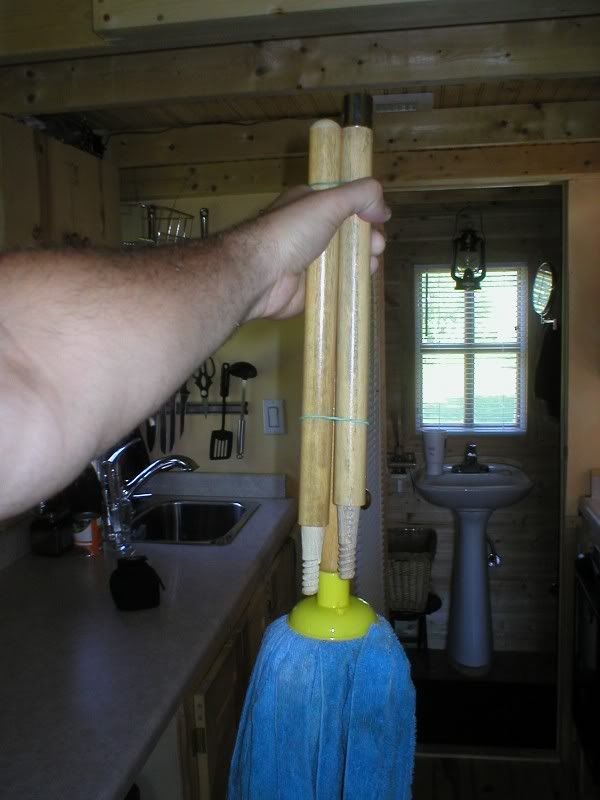 Also, since I've been gone for darn near a month because of work and other trips, I needed to do some decent cleaning today. My dad had this old collapsible handle lying around, and I was able to get this mop head on clearance from Target for, like, a dollar. With a tiny floor like this, I darn near only have to wet the mop head once to clean the whole floor!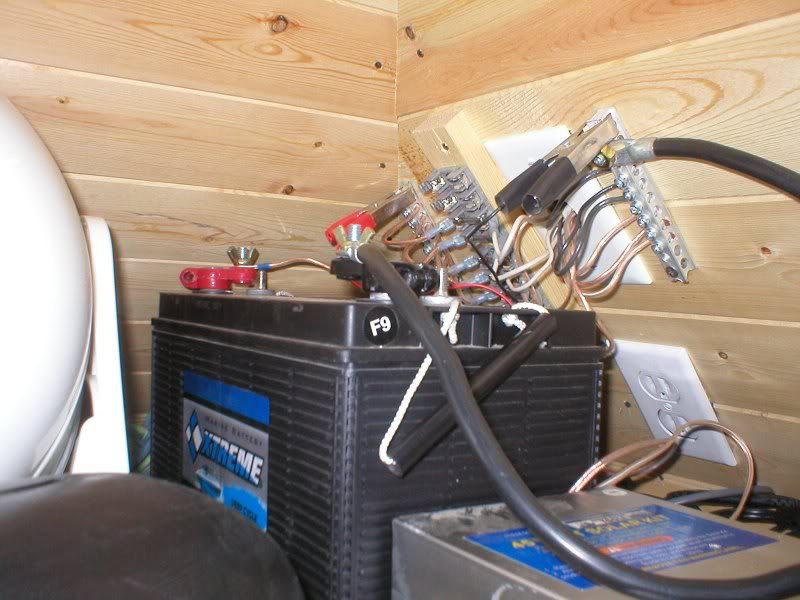 And here's another shot of the convoluted mess that is my DC wiring system. Whenever I leave the house for more than a couple of days I make sure to disconnect the battery. Before I had all of the wires connecting to a ring that slipped over the terminal. Over time, I figured the connectors on the ends of those wires might come loose (and some of them had started to) with the rings repeatedly being moved. To rectify that, I bought a ground bar designed for a breaker box, cut it in half (it was cheaper to buy a long one than two short ones) and ran the wires to the bar. Now, each wire has its own screw terminal (easy to connect and disconnect) and there's on big wire running from the whole bar to the battery. As an added bonus, I now have extra space to which I can put the clamps from the meters and stuff!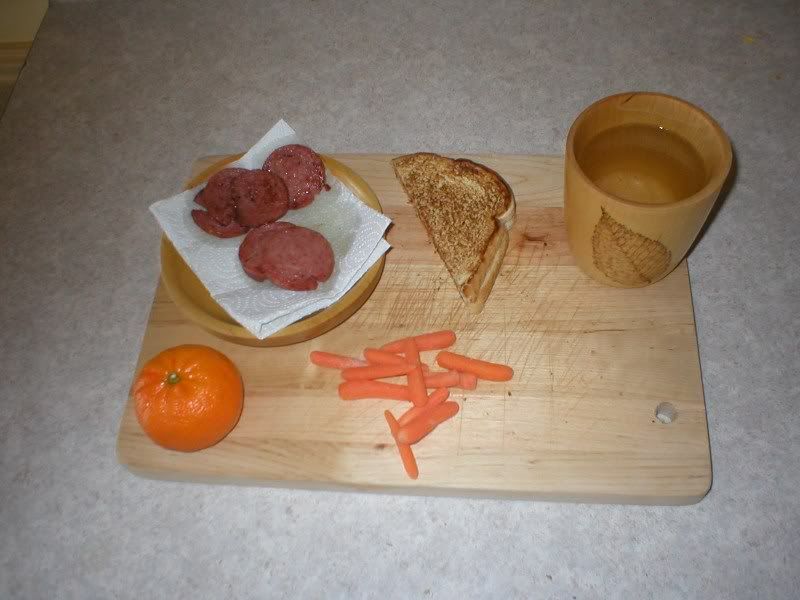 And, lastly, we have a picture of my lunch. I took some summer sausage and pan-fried it, then served it with carrot sticks, a tangerine, and half a grilled-cheese sandwich. Really, this picture is more for my mother to let her know that I'm not trying to subsist entirely off of Pringles, as well as for my friend Brie, who loves taking pictures of food.
Well, that's it for now, peeps. Sorry about the long delay - I've been away for work a lot, and I was kind of hoping that my next post would be about me getting land. That may take a while, though, it seems. But at least there's progress, so there's something to talk about.